Thinking of what this date means to me, makes me so very "Tickled Pink" today! It was a beautiful warm and sunny day 32 years ago on this day–September 12, 1981. The excitement was high and the year and a half of preparations were beginning to unfold for the day. Though the actual story began on a snowy, winter night back on Friday, January 13, 1978 – that initial meet up was now becoming a wedding day. Our wedding day.
Today we celebrate our 32nd wedding anniversary, that man of mine and I. It has been 32 years of wedded bliss! Bliss? Hmmm, really?! Oh it has not been perfect, but we have stood the ground and honored our vows through this part of the ceremony which we both recited:
I Tammy, take you Larry, for my lawful husband, to have and to hold, from this day forward, for better, for worse, for richer, for poorer, in sickness and health, until death do us part.
We are here 32 years later and have had some bumps in the road along the way–major bumps, but still feel strongly about those vows said at the altar before God and our family and friends. There are times we would probably not wish to have gone through, but I am sure glad that I had Larry to go through them with. Would I do it all over again? YOU BET! Would I change some things that happened through the years, uh, maybe. But by marrying my best friend, it is hard to walk away from someone you love that much.
For fun and make you "Tickled Pink" with laughter, I thought I'd include some flashback to the 80's photos!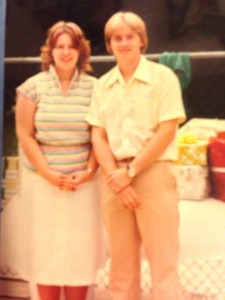 August 1981 — so young….and small!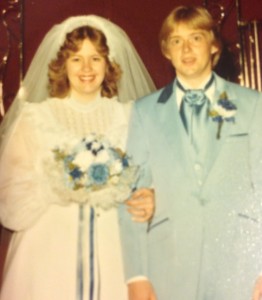 September 12, 1981 — We're married!!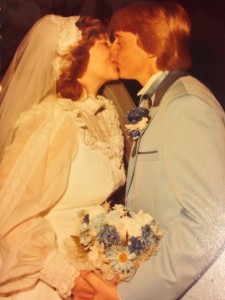 Look closer at my face–always "Tickled Pink"!!!
Always giggling!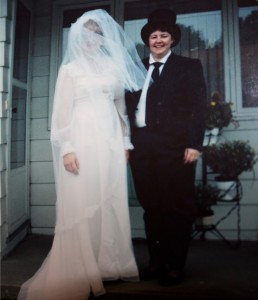 OH MY! Role reversal!!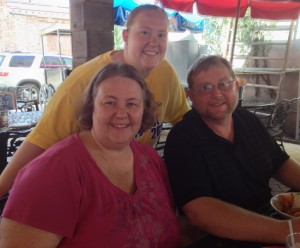 Recently (32 years later) with our wonderful daughter!
Well folks, I'm off to spend the day with my groom! Thanks for popping in today and hope you enjoyed the retro 80's photos! We're off to celebrate our 32nd wedding anniversary!
Man…32 years is a very long time!
…and that's all I have to say about that.
Tammy