I can hardly believe it's been two years since I opened up this blog and opened up my world to all of you who follow along! It has been a blast chatting with you and sharing "stuff" that goes through my head! Sometimes it has been a memory or two that brought me to giggles again, sometimes a memory that was not so funny. Nonetheless, I have shared a little about me and you, in turn, have done the same.
I am grateful for each of you who pop in here whether you comment or not. Though I LOVE when you do comment, then it let's me converse with you and find out a little about you, too!
Two years ago today, I posted my first blog post
And Here We Go!
It was sketchy at best, but it opened the door out into the blogsphere! I have to tell you that it has been a blast. I have met so many great people through this endeavor and I can't imagine the last two years without it!
I have some stories ready to throw out here for 2013 and even better, I have some giveaways lined up that you will want to make sure you watch for! If you haven't logged in over on the side to be a follower or subscriber, now might be a good time!
Even though it's "Tickled Pink's" two year anniversary I'm celebrating today, I want to give one of you a gift. BUT, you will have to go down to the comment section to be entered! I have a gift package that I want to give one of you that will be randomly selected on Sunday evening. So here's what you need to do to be entered:
Go to the comment section below and enter your first name and tell me the favorite gift
you ever received – EVER! If you have two, well, okay – I'll allow two!
Leave your comment by midnight Saturday, 1/12/13 to be entered.
And here's the package for this Anniversary Giveaway: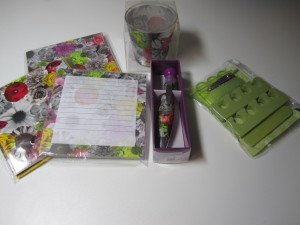 Matching mini notebook, list pad, cards, pen, votive holder & manicure set
Again, Happy Two Year Anniversary to "Tickled Pink" and a huge "Tickled Pink" thank you to each and everyone who pop in over here in my happy pink world!
…and that's all I have to say about that!
Tammy