ON THE TWENTY SECOND DAY OF CHRISTMAS
MY TRUE FRIEND GAVE TO ME: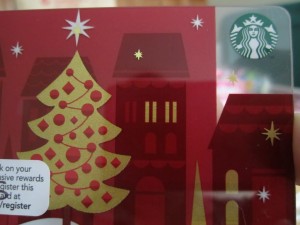 Yeah Baby! This is a high voltage, sweet gift! A sweetened caffeinated gift! Oh, and the choices can be endless on what I order with it! Yummm – meee!
Now, I can either keep this gift to myself and have three writing times with a cup o'joe – mocha style, or a big cuppa tea! Orrrrr, I can share my gift by treating the other two in my family to same beverage choices when we head out putzing around this week. Such dilemmas!
Are you getting excited for Christmas yet? Got all the cookies and treats baked? Gifts all purchased and wrapped then placed under the tree? We're "almost" there! But hey, we have two days left, right?!
…and that's all I have to say about that!
Tammy