Yo Yo! I have missed chatting with all you bloggy friends over the last couple weeks. I've had a lot of real cool things going on, so I thought I would spend just a few minutes this morning catching up on a few things that I can talk about at this point!
I did make it to my scheduled trip to the Allume Conference back on October 25-27. It was a blur of a weekend with meeting up with cyber friends, sessions, meeting up with friends, sessions, giggling up with friends….. Anyhow – it was a quick weekend, but full of fun things, but that post will come another time as I'm still sorting out the stuff!
I am thick into a writing project called NaNoWriMo at the present time, which is taking more time that I thought it would – but I have to say I am having an absolute blast. What's NaNoWriMo you ask? Don't worry, I get that reaction every time I say it! It's National Novel Writing Month. For the 30 days of November, the writer is to write every day throwing away all the rules and just write, write, write, with the end goal being 50,000 words! Yup, that is a 50 with three zeros behind it! You have to log in everyday for it to count, but you do not have daily word count requirements. Whew, good thing! Yesterday was a fast paced, weird kinda day and I only managed to push for 641 words. My new total is 12,718 – leaving 37,282 to go! No problem. I am really having a blast at it. So, once I hit November 30th, I can say a wrote a draft for a novel in November 2012 for the NaNoWriMo project. It's bragging rights, folks! Come December, it's edit, edit, edit! I have already hinted at my editor at christianeditor.net that I will be having something coming!
Oh, while I'm on that subject…for those of you who are writers that follow along on my blog, if you don't already have an editor, or are not pleased with the one you have, I'd love to share my editor with you. (Really, I do share!) You can find Niccol at christianeditor.net. Pssst: can I tell you a secret? If you mention that "Tickled Pink Tammy" sent you, she will give you 10% off any of her services through December 31st! Jus' sayin'!
Anyway…with the yucky rain we have had for most of the last two plus weeks, it's been so hard to write. I felt that my writing would be yucky, kinda like the weather! Though I have been doing the Nano thing, Tickled Pink hasn't been on here. And then today came and I'm sitting at my office in my hubby's massage office and this is what I looked out the window to see: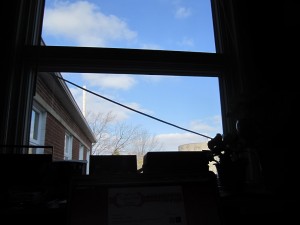 Can you believe it?! It's a beautiful blue sky and super sunny. In Ohio, gang…OH. I. O! And it's a balmy 45*. Almost time for flip-flops! Which gave me words to do more writing. And, to pop in here and say — YO!
…and that's all I have to say about that!
So…what have y'all been up to while I was away? Please share, I'd love to know and I guess I'm a little nosy as to what's going on in your part of the world!!
Tammy