As I sit here on vacation feeling the ocean breeze blow across my face, I close my eyes and lean my head back over the top of my short little beach chair. The heat of the Caribbean sun warms my face so much that it nearly lulls me to sleep. In the background, I can hear the waves lapping up at water's edge and every once in a while they make it up to my feet. The water is cool and crisp and feels ever so exhilarating and refreshing as it makes it's way up and over my foot and up my ankle. I feel as though I could sit here for ever as the sounds of the waves crashing up the shore then receding back into the ocean are rhythmic and lulling. Sitting here today, there are no worries or burdens to ponder. There are no phones, no televisions, or voices. I have found a beach spot where I'm somewhat secluded, just me, my little beach chair and…



I ENJOYED EVERY MINUTE OF BEACH TIME LAST WEEK!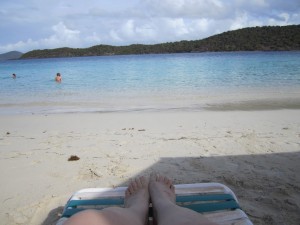 What a view!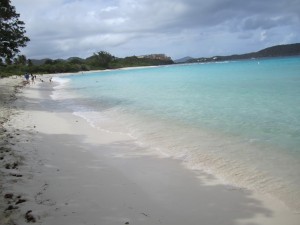 That's what I'm talking about!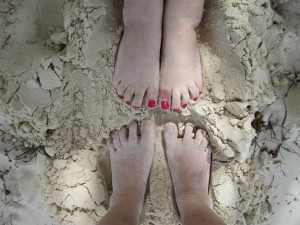 Two girlfriend's toes!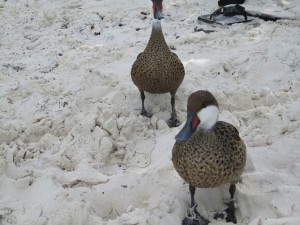 My two little friends, posing!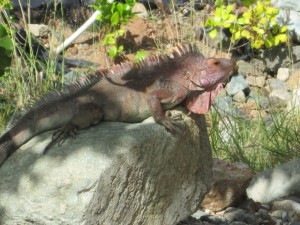 NOT my friend..boo!
So, what do you do when friends call and say, "Hey, we have room at our villa in St. Thomas – c'mon down!"
You throw together swimsuits, snorkel gear, and – oh yeah – maybe a pair of undies or two – and get to the airport, that's what you do!
Thanks to dear, longtime friends, we were able to leave dreary Ohio winter and sit oceanside for a spur of the moment relaxing vacation. Nothing suits either hubby or I better than sitting at the shore's edge and enjoying the ocean and everything with it. The sun, surf and sand. Ya just can't get any better than the shores we were hanging on this week.
Though it was meant to be a great getaway with no thinking or working, I couldn't help thinking of the wonder of God's artistic creativity at or in the ocean. Sitting calmly and watching each wave ride in to the shore over and over has an effect on me that I just can't explain. I'm amazed at the colors of the ocean as you look across the surface for as far as you can see. Being in the crystal clear waters of the Caribbean is neat as you can stand in water knee to thigh deep and look down to see the neatest colors, sizes and shapes of fish and sea creatures. Sitting on a pretty empty beach, it allows you the opportunity to just sit and be quiet and ponder. The verse that came to me sitting there was, "Be still and know that I am God." Psalm 46:10
We may not be able to be at the ocean each day, but we can still rest in the verse above. There is definitely comfort knowing that no matter what may come our way, we need to trust that God is God. For me, this may sometimes be easier said than done because I tend to get into God's way more than I would like to admit! Yet, I must be honest and admit that I can sometimes mess up something with all my "help" to God!
How about you? Do you find yourself taking over circumstances that you might have done a little better had you taken the time to "be still and know God is God?" Tell me what you think.
Since I can't pop on down to the ocean every day, I think I will try to remember the photo in my mind when things get a little stressed. Once I remember that photo, I will remind myself of the calmness and peace of being still. Truthfully, being calm and peace-filled just tickles me pink!
…and that's all I have to say about that!
Tammy