I've not been posting about what's been on my reading pile, but I can assure you there have been a lot of books read in 2018! I'm excited to share with you a book that will be released on February 19th. I've been on the Launch Team for this new, or rather updated, book written for writers. The authors, Angela Ackerman and Becca Puglisi are the brains behind the The Emotion Thesaurus: A Writer's Guide to Character Expression! They operate the website Writers Helping Writers. They have several of these books to help writers. Today's book is being revealed this week and I'm excited to share it with you. I've received an early copy to look at and it's pretty cool. So without further ado, I give you…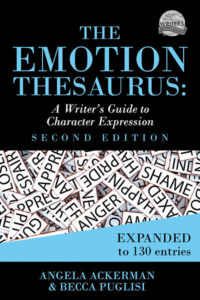 T

he

E

m

ot

i

on

T

he

s

a

urus

S

e

c

ond

E

di

t

i

on

!

You might have heard of

The Emotion Thesaurus

before, or even have a copy. The

original released in 2012 and quickly became the go-to guide on expressing character

emotion. The book's lists of body language, thoughts, and visceral sensations for 75

unique emotions made brainstorming character expressions and reactions so much easier.

In this second edition, the authors have added

55 entries

, bringing the total to 130 emotions.

That's not all, either. This book is almost double in size with lots of new content. You can find a

book is available for preorder! You can find it right now on

Amazon, Kobo, iBooks, and Barnes & Noble.

One last thing I wanted to mention… Angela & Becca are giving away a free webinar recording of one of their popular workshops on Emotion, so head over if this is an area of struggle for you. It might really help!
Click on the Amazon link above to order your own copy today.
If you're a writer, I hope you'll check it out. I've gained quite a bit reading through it!