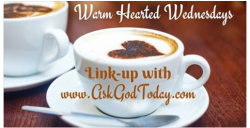 I'm so excited to join in the fun on a new Link-up. Beginning today, ASK GOD TODAY MINISTRIES will be doing a link up entitled – WARM HEARTED WEDNESDAY LINK UP. We will be providing a prompt each time to help you with your post. Take the time you need to write what's on your heart. I so hope I'll see you over there!
Today's prompt:  "Share a recent experience that you are thankful for."
That's really a tough one! It's not because there hasn't been anything to be thankful for recently, it's that which one do I pick to write about! I think I'll have to go with the one experience that was the "most" recent!
We were in South Carolina for the Thanksgiving holiday week visiting our daughter (which we were very thankful for). But the end of the week before leaving to go home, I had the privilege to meet up with a few of the ladies from my writing team with Ask God Today Ministries. Most of us had met up in Nashville at the beginning of the month for a 2016 planning retreat (which I can't wait to share more about that!!). So to then end the month with lunch with several of them was so much fun.
It warms my heart so much to be serving on this team with ALL of these women. These women are so encouraging and inspiring and I just love talking with and being around them all. Their love for God overflows into all their conversations!
So to be able to grab lunch with three of them this past Monday just topped off a great week. Made my thankfulness meter hit the top!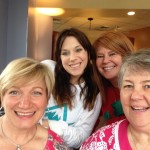 We chatted a mile a minute and laughed almost to the point of snorting!
I'm very thankful for each of the women I serve with this on this team. And I'm thankful that we were able to wiggle out some time this holiday to catch up with each other.
And of course – there's always time for being silly together…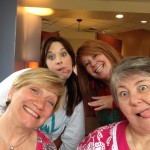 Now it's your turn…head on over to WARM HEARTED WEDNESDAY LINK UP and join in the fun! I can't wait to get this party started!