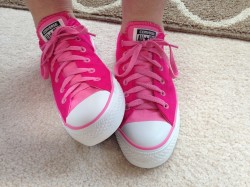 Did you ever see the movie, The Jerk, with Steve Martin? One of the most remembered scenes I think for many people is when  Martin ran out of the house yelling and jumping heading down to the mailbox. On his way, he yelled this famous phrase…"the new phonebooks are here, the new phonebooks are here." He was so excited as he flipped it open to see his name printed in those pages!
Yesterday was my "the new phonebooks are here" kinda day!
My custom order had arrived. The order even came a week earlier than expected, so when the UPS guy yelled into the kitchen window as he left my package on the porch, I couldn't figure out what was delivered. My hubby went to the door to get the package and laughed as he said your Tickled Pink Converse are here! Oh yeah, I dropped what I was doing and came to look immediately!
As I eagerly opened the box, I was so pleasantly surprised. I thought where I had the shoes custom signed with my name would be stamped on the side of the right shoe. When I pulled the first shoe out of the box and realized it was actually embroidered – well, let's just say Pharrell's song, "Happy" came to mind! I was most certainly "HAPPY"!!!!!
I immediately put them on! And if you knew me, I never do anything like that. Seriously. I will buy a new item of clothing, shoes or even a new sewing machine. I won't wear or use the item for a while. Actually, not until my husband asks why I'm not using the new thing! But this time, I put them on and began snapping pictures! I took the one above —
And then this one…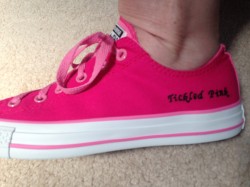 And then this one…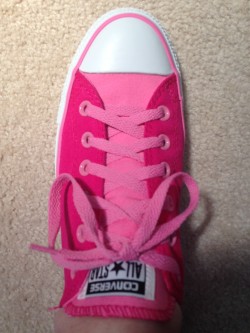 And then this one…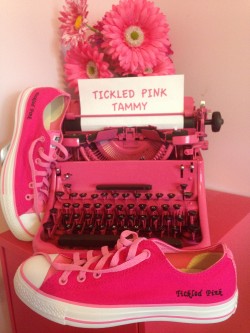 And lastly, this one…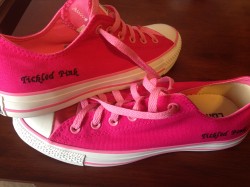 My hubby just kept smiling watching me be so excited about my new shoes! What can I say – I was just…(here it comes) so "Tickled Pink" with my new Converse.
I usually don't have such a positive experience when I order things. I for sure have not had something arrive that was better than what I thought it/they would be. It was truly a Tickled Pink kinda day!!!
Talk back to me…have you ever ordered something and it arrived even better than you thought? Share your experience with us below! I'd love to hear your story!