Whatcha Readin' Wednesdays!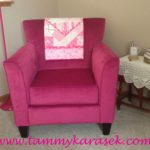 It's Wednesday, and I'm up to my elbows in moving boxes and loading vans and trucks! But I wanted to share another book with you. Someone recently asked me if I only say nice things about all the books I read. I thought about it for a bit and said, well I try to find something of value of each that I read. Then within the last couple of weeks, the subject of book reviews has come up several times. And a common theme kept popping up. What do you do when you've been asked to read a book for a review or even purchased the book yourself, and the book just wasn't good for you? I had to go back and ponder the first question of do you "only say nice things" about a book in a review. Saturday, 3/11, a speaker in one of the breakout sessions brought the subject up again! The point she was making was this:  if people are counting on reviews to decide to spend their hard earned money on a book, don't you owe it to them to give your REAL opinion of the book? It is, in fact, your opinion, but if you are honest and say that it just didn't do it for you, someone will appreciate your thoughts and may move on to another book that better suits them.
Well, I have recently read two books that "just didn't work for me." I will do one this week and the other one next week. Remember, this is only my opinion. Others may have read it and it was the best book they have ever read! (Maybe not–hehehe!)
This week's book is What if God Wrote Your Bucket List?  52 Things You Don't Want to Miss by Jay Payleitner. I co-lead a book study online with a friend and a group of ladies with this book. I can't speak for all of the ladies, but I know a couple admitted they were looking forward to the topic. I, also, was excited. But it was short lived excitement.
As we progressed through the book, I didn't feel like we were actually discussing "Bucket List" types of things. He did, however, give a lot a great ideas that we should be doing for other people on a regular basis. I wouldn't think of any of these things as "Bucket List."
For instance: See God as a loving Father. Put others ahead of yourself. Recognize the Ten Commandments. Love and be loved. These are all great things, but shouldn't we do them on a regular basis?
The book itself isn't bad, but I really feel that the title is very misleading. Out of the 52 things he mentions, I don't think more than 5 were what I would consider "Bucket List" worthy. Maybe his title should have been more like: Living Life to the Fullest, 52 Things You Don't Want to Miss. That would fit.
There you have it! Not all of my posts regarding books are only positive! I would recommend this book as a library rental. Not worth the retail price of $12.99.
Happy Reading!