Okay, so summer doesn't officially start until this Friday – but once Memorial Day comes and goes, I think it's summer. Or close enough! In Ohio, we can't count on summertime weather starting that early, but we do start having some nice days.
And what could be better to do on one of those nice summery type days than to be hanging with a special homey! Now that makes me get "Tickled Pink"!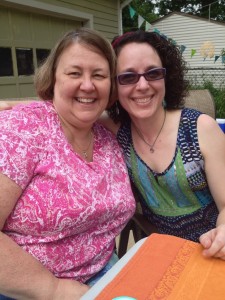 Me and Marie!
We were trying to remember how far back our friendship goes. We were laughing as we tried to figure it all out. As fellow quilters, we were basing it on different Quilting Getaways, Shop Hop Trips, Quilting Speakers our guild sponsored and even better – which quilt we were working on when we met! It was quite fun trying to narrow it down. We're pretty sure it's been more than eleven years!
As we celebrated another milestone in our children's life together, her middle child's graduation, we relished the fact that though time and busyness sometimes makes weeks go by without a call or a visit, the friendship grows ever more rich as the time goes by.
Just the thought of my dear friend Marie and her family, that I've grown to love as my own, makes my heart swell. It's definitely a "Tickled Pink" thought!
What about you? Do you have a friend who you have known for years, that even though you don't speak every week – when you do, it's as if the last conversation was yesterday? Well…let's hear about her here in the comments below! It's time to thank God for the gift of friendship today, folks!
…and that's all I have to say about that!
Tammy