Have you ever felt God whispering something to you, and you're just so sure it's only in your head, and it most assuredly couldn't be God telling you to do it. The thought just doesn't seem logical and surely you are missing the message? Shouldn't it be someone else? God could really find someone better suited for the task.
You go about your life ignoring the gentle whisper. Then it comes back again. Nah, it couldn't be, now you're just thinking you want to do this, so you are convincing yourself that it's God "saying" it. But you choose to go on about your daily life ignoring this thought.
Rats, then it returns again. And you begin the mental arguments that go on and on, sometimes for months. Then the proverbial 2 x 4 to the head slaps you so hard you just cannot fight it any longer.
Yeah – that just happened to me last week!
So what on earth do you do with it? Well, you can continue on the path of ignoring it and live in the inner turmoil of knowing you're not walking in obedience to God OR, you can chose the better path and give up the fighting!
I'm Tickled Pink to say that I have finally given
up the fighting!
I began moving forward on a dream I've had that God has been pushing me more lately to just "go for it!" Paths have changed, doors have opened and it seems the time has come.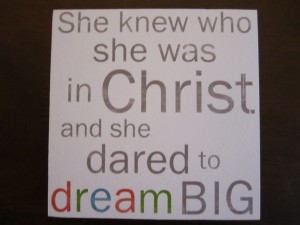 I received this in the Fall as a gift, but hadn't set it out.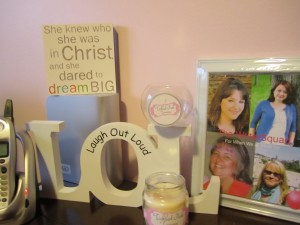 It now sits to the left of my computer, so I can see it every day I write!
What about you? Have you ever had a dream that you weren't sure it was something you should pursue? Have you felt led by God to do something, but second-guessed if it was truly from God? I would really love to hear your thoughts on this. Okay, mostly for my own encouragement…but possibly someone else needs the encouragement of those of you who have followed God's leading and stepped in faith with your dream. Share in the comments, I'm hoping I'm not the only obstinate child here!
Oh – you know what we need here…another giveaway! Giveaways make me Tickled Pink – 'cause I love giving gifts! What do you say? Ready for one? Up for grabs this time is the following: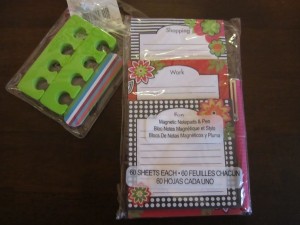 This package includes a mini-mani set, a 3 pack of notes and a pen!
So, enter your comments below by midnight, April 26, 2013– and I'll randomly choose a winner in the morning on Saturday, April 27, 2013!
Whatcha waitin' for? Click on the comment section, let's get talking!
…and that's all I have to say about that!
Tammy