Yes, I do! The person who will be receiving this fun little package below: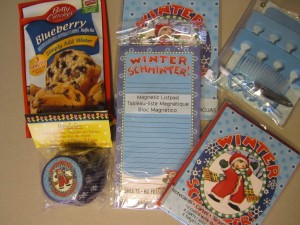 will be:
Kandee – if you will e-mail me at: tickledpinktammy@gmail.com with the address you would like your prize package sent to, I will get it off to you this week!
I was about to do the drawing with the first couple of names and I had a "gentle urging" to go and check my "awaiting moderation" section. I have not set up my account to do that, but it seems that Blogger has decided that every now and then I need to be doing that—so they do it!
I am glad I did, because there were about six of you sitting in there. So – I am sorry about that. And I truly hadn't done the drawing yet.
Now that's some crazy stuff right there!
Anyhoo…I'm getting excited – winter is almost all the way over! WooHoo!! That is something that makes me "Tickled Pink" for sure.
Kandee, I hope you'll have some fun with your prizes. Maybe you have some special someone(s) who would love to share those Blueberry Muffins with you!
Thanks for stopping in and commenting for the drawing. Love reading your thoughts – keep 'em coming!
Until soon…
and that's all I have to say about that!
Tammy