ON THE ELEVENTH DAY OF CHRISTMAS
MY TRUE FRIEND GAVE TO ME: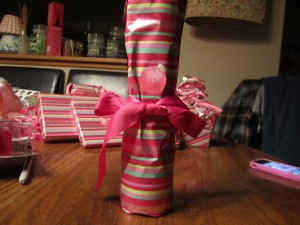 I tell you what, I am set for an evening of pampering…spa style! The other day I received snowmen nail files and some new PINK polish. Today, I received a candle and some bath confetti! Oooh La La, I will be able to soak in a warm bubble bath in the candlelight! And as cold as it's been here lately, I just can't wait to use these!
Any of you fans of a nice warm soak in a bubble bath? Let me know, I'll read 'em when I get out of my bubble bath!
…and that's all I have to say about that!
Tammy