I decided back in the winter that I needed to make my writing space a happy place, a well…"Tickled Pink" kinda place. A place that I'd love to sit in and pull the many thoughts that consistently swim through my head out of there and onto paper, er…onto the screen! When we built our condo in 2005 (well, had it built-correction!) we only had plans on staying until 2007. Upon the advice of our Real Estate Agent and of course HGTV, we painted most of our house what I call, "house for sale, beige"!
I was tired of this boring, beige, no pictures on the wall (because the future owner doesn't want to see your family on his/her possible new wall) space to try to write and create. And – we have long passed 2005 and are still parked in this condo! I went on a tantrum off to the paint store by myself and came back with paint. Poor hubby just looked and wondered what "I" planned on doing with that paint. I promptly told him that "we" would be painting come spring.
Of course I'm quite sure if you've been around this neck of the bloggy woods for very long, here in my little bloggy world, you can probably figure out what color I brought home. Yep – orange! HA! No,
your first guess of pink was spot on.
About a month or so ago, the walls were painted. Some of the accessories have been painted brown to match my writing and computer desks, but not everything is just quite ready for photo sharing just yet. But I do have something I want to show you. I know you're going to crack up, but you will for sure get a little more taste of what a goof I really am!
I got a brainy idea that I wanted a pink typewriter. I know, I know–they don't make pink typewriters. But I can make one! No, really – I did! I was given this big 'ol beat up heavy metal typewriter and figured it just needed some pizazz! Some PINK! Below is the old girl before getting a makeover: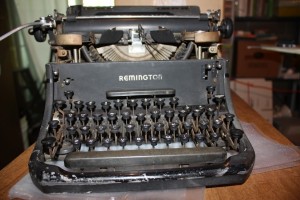 Here she is before being all taped up for painting.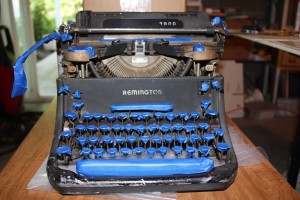 Here she is taped and ready for her makeover!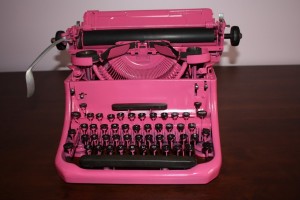 And here she is all done up!
Then hubby and I had a blast taking pictures with me sitting with my new PINK typewriter!
My office is coming together pretty nicely. When my last item gets finished (when I get my bottom downstairs to put it together!) I promise to take photos and share. Then you'll know some of the reason for my absence from the blog in spring. I didn't want to put it out there and have you all pressure me to finish! Haha! Hmmm, in hindsight – maybe that would have been a better idea!
So, tell me folks…where do you create? Have you set up a space that is just for you and your craft? Whether it is writing, painting, quilting, cooking – whatever your pleasure is, have you made it your space? Have you made it a place that makes you smile when you sit down to do your craft? I have come to believe that it is truly something that matters. Where you work should make you want to hurry back and pour out your efforts on creating something only you can do.
We all need a space whether it is a corner in a room, a closet or even a whole room where we can let the creative juices flow and feel good sitting in our own little space!
…and that's all I have to say about that!
Tammy
Don't forget to leave your comments below, I'm dying to know where YOU create. Hey – I'd love photos, too!