The other day, I was looking through photos and I came across our recent trip to St. Thomas back in February. As I was reminiscing about all the fun we had with good friends I came across this photo: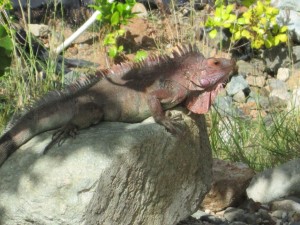 This is Sir Komodo Dragon! I quickly learned that this is a common site on the islands, a site I'm not particularly fond of, however! Yet one of our many experiences with these things still "Tickles Me Pink" with laughter as I remember the scene. Get ready, I'm thinking you will also become "Tickled" with this one!
The four of us were sitting oceanside enjoying the wonderful view of the beautiful water. Our friends and the hubster were all quite relaxed while I kept one eye on these Dragons at all times! After a while, we all decided it was time to cool off and get some refreshments. Hubby stayed back and the rest of us went up to the counter.
Our friends have been here several times and are very accustomed to just keep on going past these creatures. They are not phased by them in the least, or are they?
Now, you must know that the fella we are with is always calm, cool, suave and debonaire. He's just not rattled easy. You know…just has swag! So what happens next is just crazy hilarious!
We're walking up to the counter past the tables and chairs and across from the pool. It's loaded with people, yet all the while, I'm looking down and around for those crazy creatures! As we are getting closer to the counter, I glance up and out of the corner of my eye I see something in the planter move. At the same time, our buddy goes straight up off the ground and seemingly teleports over to the right about three feet as he screams like a girl, "holy expletive".
Well, this causes me to jump and move away from the planter although I have no idea why!
As the three of us gather at the counter, I'm trying so hard not to bust out into hysterical laughing. But I just can't help myself and lose it as I keep replaying the visual of him jumping up, over and screaming!
Our friend then turns around and laughs and says, "did you see that? That thing whipped it's tail around and whapped me on the arm!"
We gather our stuff and head back to hubby and he looks at our friends and asks, "what's up with her?" I'm laughing so hard I can hardly talk. When the three of us finally get the whole story out, I can hardly breath and my sides are killing me.
I still crack up every time I think about it! The speed and height our friend used to get away from the Dragon was so funny. I think every time I see one of these Lizards, aka Komodo Dragons, I will always remember the calm one screaming like a girl!
So my take away on this is this: just when you think that the most calm, not easily rattled sole in your crowd cannot be startled to the point of screaming like a girl, think again!
…and that's all I have to say about that!