It's Friday so it's time to share about Food! I am really excited about today's post as I get to showcase another friend. I love bragging on my friends and sharing them with all of you. However, this post isn't written by my friend, it's written about my friend. I mentioned her a couple posts back when I shared with you my quick, rustic tart.
Who I'm speaking about is my Fav Cooking Teacher from my cooking school days, Carla Snyder, and her newest endeavor I was fortunate to be a part of–again! (Grinning from ear to ear!) Yes, I was asked to be a recipe tester again, this time for her new book coming out in Spring 2013. The title is very fitting for my situation and probably a few of you as well…"One for Two: Fast and Fresh One Pan Meals for the Modern Couple" (written for Chronicle Books). One would usually think – One Pan Meal – ah, that will be soups and stews. Well, one would be wrong! Carla already wrote that book with her business partner, Meredith Deeds with their joint effort of 300 Sensational Soups (great book by the way…well, of course I have it!)
The recipe I was given made me laugh. I don't eat much meat these days, but was intrigued by the sound of the recipe title – Miso Glazed Cod with Wilted Asian Red Cabbage Slaw. Since the daughter has been wanting to try some fish, I thought this would be a great recipe trial for Carla as she had 3 willing participants–one who will eat "pret-near everthang" (as Grandma would say), a somewhat picky eater who doesn't like meat very well but wants to try fish lately, and me – yep, the one who you read a few posts back would shove the meat in the heat register by my chair at dinner growing up!
I shopped for all the fresh ingredients a couple days after receiving the recipe. Made a date with the daughter to come for dinner. On the "Recipe Test Day", I got all my products mise-en-place (everything in place) and ready to go. This is what my butcher block looked like, ready to cook: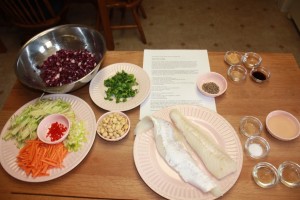 I followed the recipe, and in usual Carla style, it was easy to read. As promised in the title of the new book, it was done in one pan.
This is what it looked like all plated up and ready to serve:
I have to say that this recipe got a trifecta of two thumbs up! It was a hit among the three of us and all of us decided it should be in a regular rotation of meal plans! Now that just never happens at our house! Our daughter even said the glaze on the fish would be delicious on a chicken breast.
I'm telling you – if you haven't checked out Carla's website by now, I have just one question for you today. Why not? Also, if you're looking for a new recipe or two for your fall repertoire, I suggest you give Carla and Meredith's books a good looking at! You can find their list of books on her site. You might even see a familiar name in the "tester" section! Jus' sayin'!!!
Oh, and Miss Carla – I'll be your "Kitchen Wench" again anytime you need me! I loved working elbow to elbow with you back in the day at cooking school!
So, my bloggy friends – what are you cooking up this weekend for yourself or your family? Please leave me a comment below. I'd love to hear what's cookin' in your kitchen!
…and that's all I have to say about that!
Tammy K.
PS: I was not paid or given a book for the above post, nor was I asked to blog about my test. It is just my honest little opinion!